Hello Fellow Steemians,
It's about time I started writing more and I thought to myself what better way to do this by sharing something I finally set up recently. It is also related to the blockchain space and something I think can have tremendous value for creators. That's right, what I'm talking about here is the Basic Attention Token (BAT) and Brave Browser.
This cryptocurrency comes from the creator of JavaScript and the co-founder of Mozilla and Firefox, with a very solid team. The 'Basic Attention Token' (BAT) is an open-source, decentralized ad exchange platform based on the Ethereum blockchain. I always thought that it was a funny name as well and it sure grabbed my attention. At the moment of writing this post it is ranked in top 30 cryptocurrencies on Coinmarketcap.
The first great thing I found about the Brave Browser is that it has a build-in shield for ads and trackers and you have full control of this to disable or enable it on the fly. Usually I would have to get a separate extension on Chrome to block all those annoying ads. And the added benefit is that Brave uses Chromium as is its base so you will see a lot of similarities in the menus and layout. You can even download and install other Chrome extensions from the Chrome Webstore. The Browser really feels lightweight and has amazing loading speed.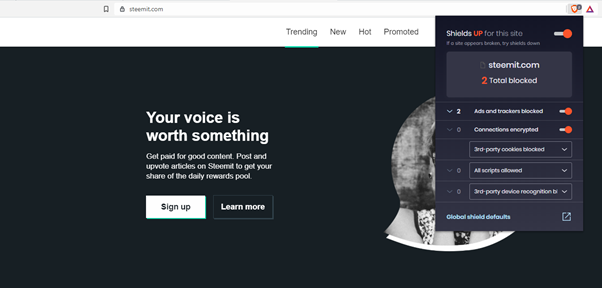 Brave also has some advanced privacy features, such as directly integrating with the DuckDuckGo search engine or Tor for advanced private browsing which hides your IP address. DuckDuckGo by the way is a great alternative for Google Search if you want a fresh search experience without anything tracking you.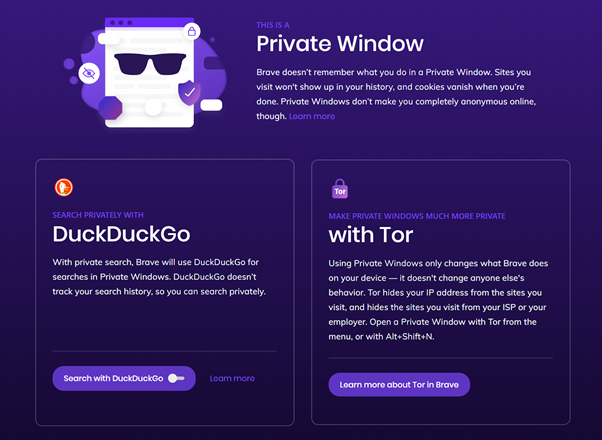 So what's in it for Creators? How can we also earn through this medium as we do on steemit?
As I have been using Brave Browser more frequently, I started to dive in deeper into its ecosystem and its use of the BAT Token as a way to reward Users and Content Creators by actually supporting ads that you can tolerate or even direct support websites (creators) by sending them a tip by them becoming a verified publisher and integrating it directly on their websites.
I have to thank my friend @timothylie for finally getting me to look more into this part of the browser and setting my website up so that I can also receive BAT tokens and of course support others who already use it. Feel free to show him some love and dropping him a tip at timothylie.com.
In the screenshots below you can see how I can directly send him a tip through the browser as well as my current wallet balance. I can choose to do this monthly or as a one time transaction. And as a verified publisher he can even place a custom message in the banner and link to other channels such as Twitter.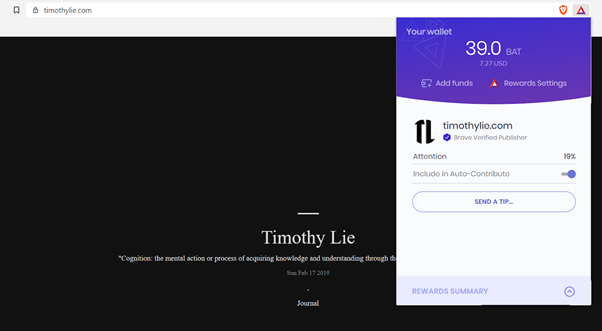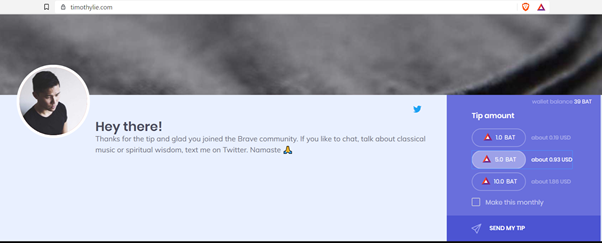 Let me know in the comments below if you would like a detailed post on how to set this up on your own website to accept these tokens. Currently I have already integrated it on my Personal Website and my YouTube Channel.
I would especially like to encourage some of my friends here on steemit to give it a shot.
@jeanlucsr
@faustofraser
@mpawirodinomo
@mzsocialssmit
@cryptoplu
@rehuelwolf
@searchandfind
@heliophoeli
@jilljoyl81
If you haven't tried the Brave Browser yet, feel free to give it a try and you can always support me by downloading it through my Referral Link.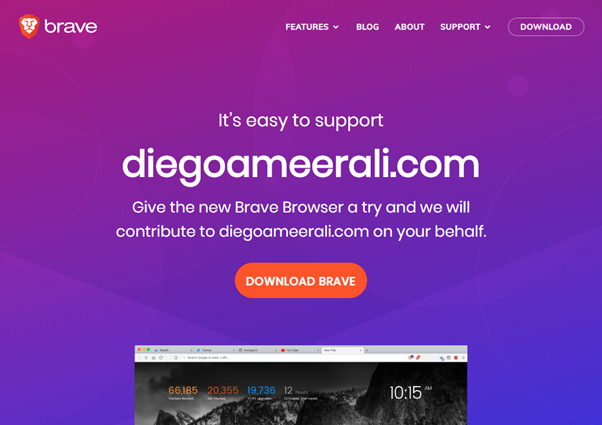 Hit me up on Twitter and let's get a conversation going.
Peace