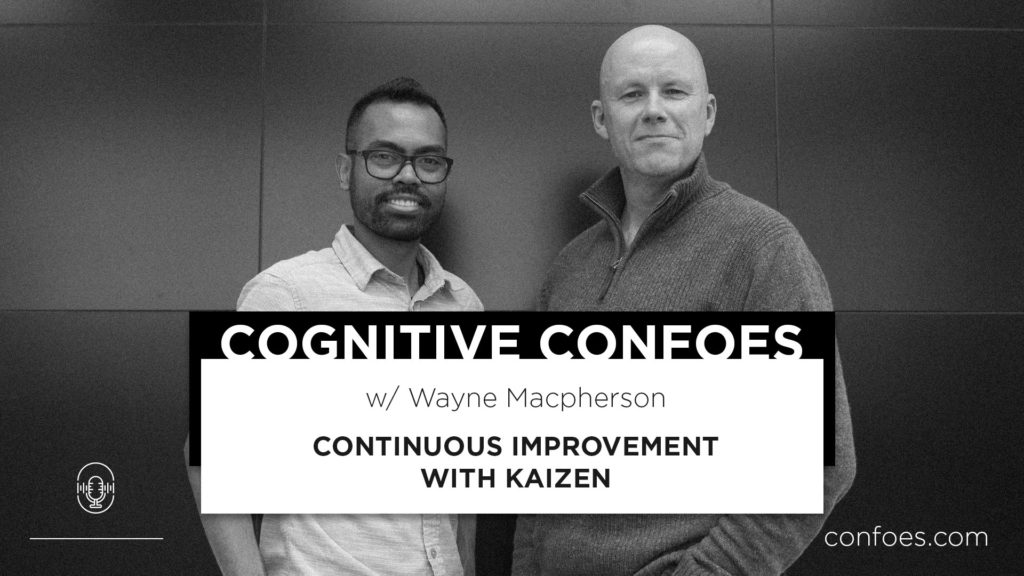 [ENGLISH EPISODE] This is the start of a new series called Cognitive Confoes that will be dedicated to more abstract and conceptual topics. In this first episode, I had the privilege to talk with Wayne Macpherson about Kaizen. In short, Kaizen, is a Japanese philosophy on continuous improvement. Wayne is from New Zealand and he currently holds the position as the Director for the Management Programme at the Massey Business School. However, he has lived and worked in Japan for 2 decades where he encountered Kaizen. Enjoy the episode to see how this journey unfolded and learn about it.
For reference, this episode was recorded on Aug 11th, a day before any new case were announced in Auckland and New Zealand went back to alert level 2.
Episode overview:
0:00 – Introductions
4:35 – Encountering Japan
7:15 – Encountering Kaizen
12:20 – How would you explain Kaizen to somebody?
16:25 – How would you get someone into Kaizen?
21:53 – What are some similarities and differences that you have seen between Japan and NZ?
26:35 – Is Kaizen something kids are brought up with, how is it ingrained in the culture?
32:32 – What's the impact of Toyota in the Japanese society?
35:45 – Returning to New Zealand and a reverse culture shock
41:30 – Becoming the Director of the Management programme
48:14 – What's a silver lining from the current crisis?
51:20 – Is Kaizen something that can be easily adopted by the Western world?
54:20 – How do you build these improvement habits?
59:45 – Closing off with some recommendations
Video version of the episode:
Follow and listen to this podcast on Spotify, iTunes and Google Podcasts.
The Cognitive Host: Diego Ameerali
Feel free to join our Discord Server.
You can support this Podcast by downloading and using the Brave Browser through this link.